Regular price
Sale price
$209.00
Unit price
per
Sale
Sold out
Full Grain Leather

Up to 15 Inch Laptops
Free & Fast Shipping

Fast & Secure Checkout
View full details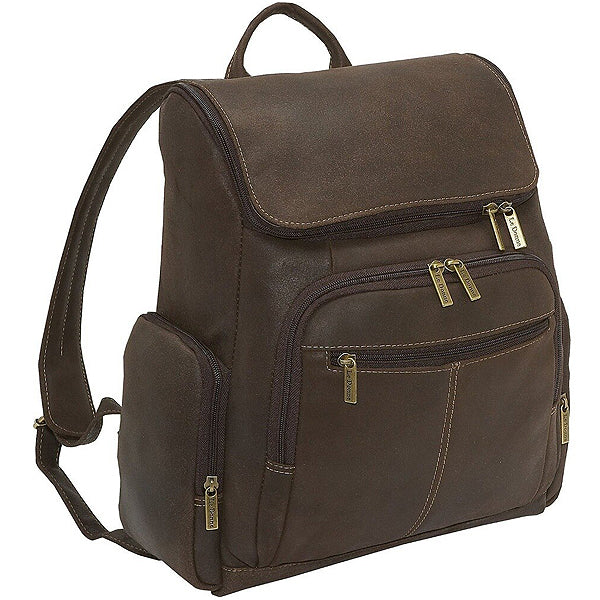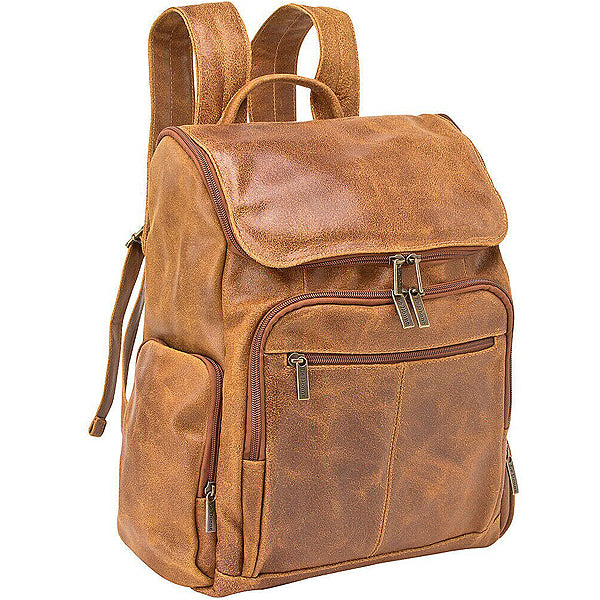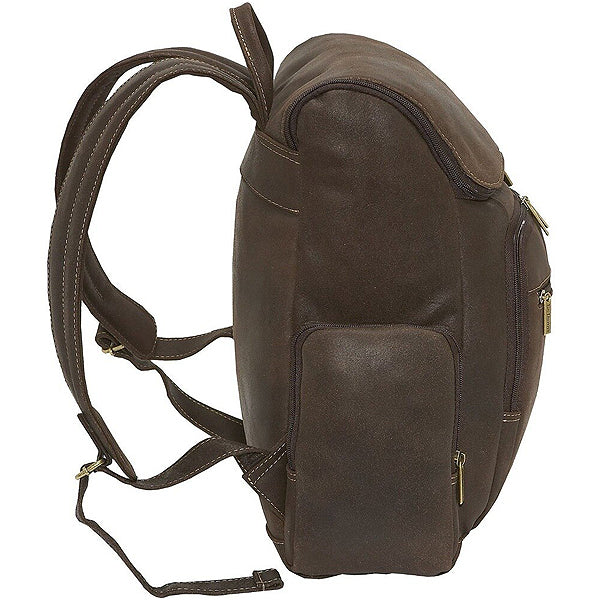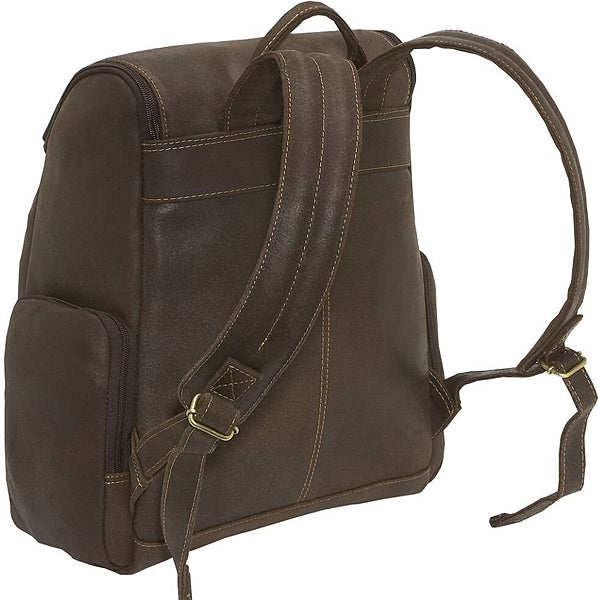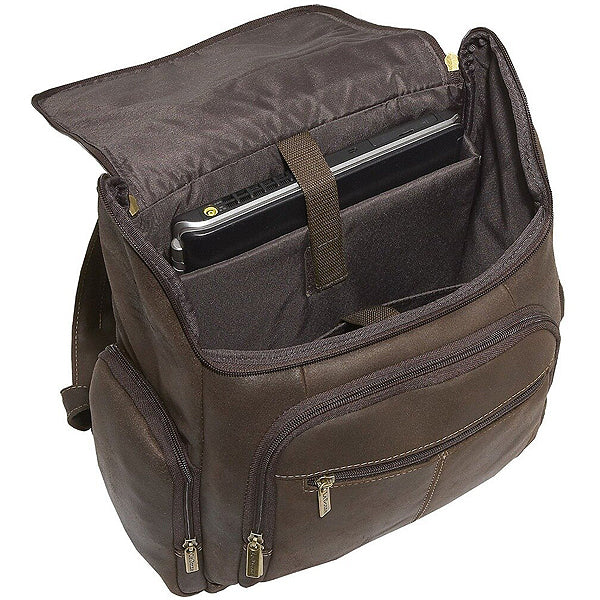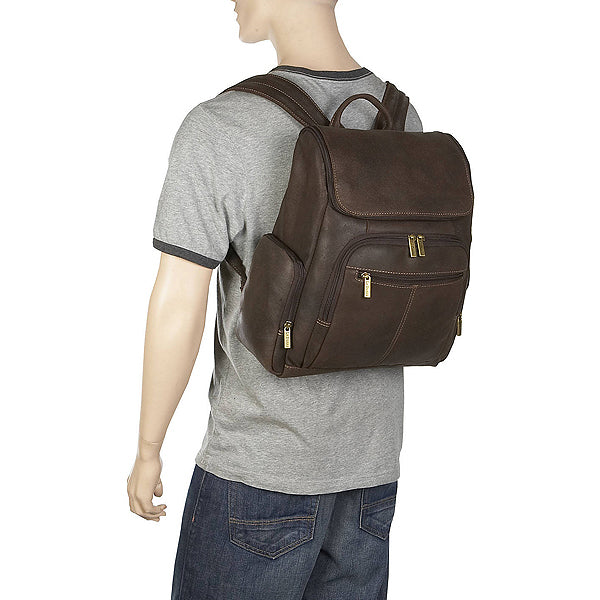 The ultimate rugged leather rucksack, The Distressed Backpack is built to be ready for anything. Whether you need a backpack for the office or a bag to use for weekend vacations, this backpack will be your new favorite companion.

Made from premium full grain cowhide leather, this leather laptop backpack is designed to go the distance. This is one bag that won't give out.
Ideal for everyday use, this backpack is perfect for carrying everything you need for school, the office or a well-deserved vacation. Easily fit your medium-size laptop (up to 15.4 inches) in the padded compartment, along with your files, clothes headphones and books. Then use any of the convenient easy-access zippered exterior pockets to keep your wallet, phone, passport and keys.
Created with extra-thick, stylish leather, and comfortable backpack straps, you'll know this backpack is built to last.
Features
Handcrafted from premium full-grain vaquetta cowhide leather

Large main compartment opens with a zipper
Front u-zip compartment has pockets for 2 pens and a business card holder
Front zipper pocket for easy access items such as cellphone
Two side zipper pockets
Comfortable, adjustable backpack straps
Padded laptop sleeve fits up to 15-inch screen display laptops (diagonal measurement)
Specifications
Dimensions: 14" H x 17" W x 7" L
Weight: 3.5 lbs
FREE OUTFIT PAIRING GUIDE ON ALL $100+ ORDERS TODAY
Learn how to pair your new leather bag for work and leisure.
Elevate your style with the 50+ leather bag outfit ideas featured in this lookbook*.
Get outfit inspiration to:
Impress your colleagues with workweek wins
Wow your friends with casual cool looks
Look stylish for weekend exploration with adventure-ready looks
All while keeping it simple, quick, and affordable for all body shapes and sizes.
*please note the lookbook will be automatically added to cart for all orders over $100.
25,000+ Customers Served

After serving so many customers over the years, we've learned a little along the way. Our leather experts are always on hand to help you with any questions.

1000+ Verified Reviews

We know how important it is to hear opinions from real customers. That's why we've collected over a thousand real reviews from customers.

Perfect Gifts

We know how hard it is to find a really great gift for a special person. There's nothing quite like a gift that's built to last a lifetime. Show them how much you really appreciate them this year.

The One-Stop Leather Shop

We're you're go-to for everything leather - work bags, duffles, backpacks, wallets, toiletry bags, care kits and more.
THE REAL LEATHER GUARANTEE
We think you'll love your new leather bag. But just in case it's not quite right - all customers are protected by The Real Leather Guarantee.

With The Real Leather Guarantee, you can shop confidently, knowing that you have a whole 30 days to decide if your leather bag is everything you dreamed of.

With the option to return your order within 30 days, you can make your decision with full peace of mind.
Your most common questions
Shipping and returns

All orders are eligible for Free Shipping to the US. Our best selling items are also eligible for free shipping to the UK and Canada.

Most orders are processed and shipped within 1-3 business days of receipt.

All purchases from our store come with The Real Leather Guarantee.

Got your eye on something? Try it out for 30 days. If it's not for you, return it to us and we'll refund your order. And we promise, no hard feelings!
When will I get my order?

The current typical delivery time of this item to the US, Canada and the UK is between 2-5 business days.
Will my device fit?

The Device Fit on this item is: Up to 15 Inch Laptops

Not sure if your device will fit into this leather bag? Here we'll show you how to find out step by step:

Get something to measure your device with. A tape measure will work great.
Find the bottom left corner of your device screen.
Now, follow the screen with your eyes until you reach the top right corner of the screen.
Take a tape measure and carefully measure the distance from the bottom left corner to the top right corner of the screen.
Measure only the screen part. Ignore the frame or the black edge around the screen (that's called the bezel).
Write down the number you measured and round down to the nearest whole number. E.g. 15.6" becomes 15" and 17.2" becomes 17". This is your screen size in inches.
Compare this number to the Device Fit number above.
If the number you measured is smaller than or equal to the Device Fit number above, then it fits - great!
If the number you measured is larger than the Device Fit number above, then it won't fit comfortably. We recommend going back through our collection of

bags

and filtering by the Device Fit number you need.

Example:

I measured my laptop screen size and rounded the result as instructed. My screen size is 14 inches. All bags marked as Up to 15 Inch Laptops will fit my laptop.
Will this bag fit me?

We understand that finding the perfect leather bag can be a concern, especially when it comes to fitting different body shapes and sizes. Our bags are designed to accommodate adults of all sizes, and we have taken special measures to ensure your comfort and satisfaction.

Our leather bags are thoughtfully crafted to fit all sizes of humans comfortably.

Most of our bags feature adjustable shoulder straps that can be extended from 25 inches to 49 inches. This wide range ensures that the bag can be easily customized to fit your unique body shape and size. Whether you're petite, tall, or somewhere in between, you can adjust the strap to find the perfect fit.
Will this bag be too heavy for me?

We understand the importance of comfort when carrying your belongings. Bags made from real leather are slightly heavier than most other materials. That's why we've made adjusting the shoulder straps on our bags quick and easy.

The design of the adjustable straps are user-friendly and hassle-free, so you won't have to spend a lot of time trying to get the right fit. Once you find your ideal strap length, you can easily secure it in place, allowing you to effortlessly carry the bag with maximum comfort and style.
How do I look after my bag?

Treating a real leather bag with care can extend its life by years.

We recommend following our full Leather Care Secrets guide to preserve your leather bag.

Use a good leather care kit once or twice per year to prevent your bag becoming dry or cracked. We recommend using this all natural leather care kit for our bags.

Be sure to take the time to care properly for your leather. If you do, your bag can have a good, long life.
Can I get it monogrammed?

At this time, we do not provide monogramming or embossing services. However, all our bags can be monogrammed by most leather working dealers. We recommend taking our bags to your local dealer for more information.
Can I get it wet?

Wherever possible, avoid damp or moisture on your leather bag. We know this is not always possible, so if your bag does get wet, here's what you do.

If you spill something on it, blot away the moisture with a clean dry cloth as quickly as you're able to.

Caught in a rainstorm? Be sure to let your leather bag completely air dry and do not use a heat source to speed up the drying (this can damage the leather). Stuff the bag with newspaper to help the bag keep its shape and absorb moisture from the inside.
Will my bag smell bad when I get it?

As this bag is made from real leather, it is likely to emit a strong, natural leather smell when you first receive it. This will fade over time.

Should this smell not be to your liking, we recommend airing out your bag in a cool, dry climate for 48 hours.
Can this leather bag be made with custom dimensions?

We are able to make some leather bags in our collection with custom dimensions.

If you are interested in this service, please contact us, providing the model requested and the desired dimensions. If this is currently possible, we will then provide a quote.

Please note that any custom bags ordered this way are strictly made-to-order, so will take a little longer to get to you and will be more expensive than the similar model on our site. All custom orders are final and returns cannot be accepted.
The Distressed Backpack
Bought this backpack for my wife. She loves it! It's very comfortable and holds everything she needs for school.
Very Good
I purchased this because it looks like carrying the old brief case has become passe. It was easier to find things the way a brief case is structured. The inside of the backpack is dark, making it a challenge. Once I get things inside it better organized I'll be happier with it. I've only had it a few weeks.
Hi Len, thanks for taking the time to leave a review. Your comments have been passed to our design team. Organization is often key and we wish you the best of luck. Please get in touch with our team if you have any questions.
Bobb's backpack
The backpack was exactly as advertised. The quality of the construction is outstanding. I'm able to fit both laptops and the iPad with room for notebooks and papers. I'm very pleased with this purchase.
Thanks Bobb, glad to hear that!