Updated 02/13/22.
Here at The Real Leather Company, we're all about bucking expectations and redefining what it means to be a bloke. We don't like to be put into boxes. Rather, we prefer to throw the box out and draw our own lines.
Are you serious about defining yourself from the pack?
You are a modern man: Tech-savvy and of the 21st century. We know you like to do things a little differently than those who came before you. You're a trailblazer and a maverick. You don't let expectations of what it means to be a man get to you. You carve your own path through the jungle.
So, is there a better way to blaze onto your own route than with a practical, top-class men's leather shoulder bag? Honestly, we don't think so. With plenty of compartments, high-end builds, and an unparalleled professional status, our bags are meant for the men of the world who know they stand out.
Picking a bag of your own is a task that requires diligence. Every man needs something different out of their purchase. To make the process of choosing your new leather bag that much easier, we've prepared the ultimate guide to purchasing your very own men's shoulder bag.
Are you ready to learn the tricks of the macho trade and make the manliest purchase?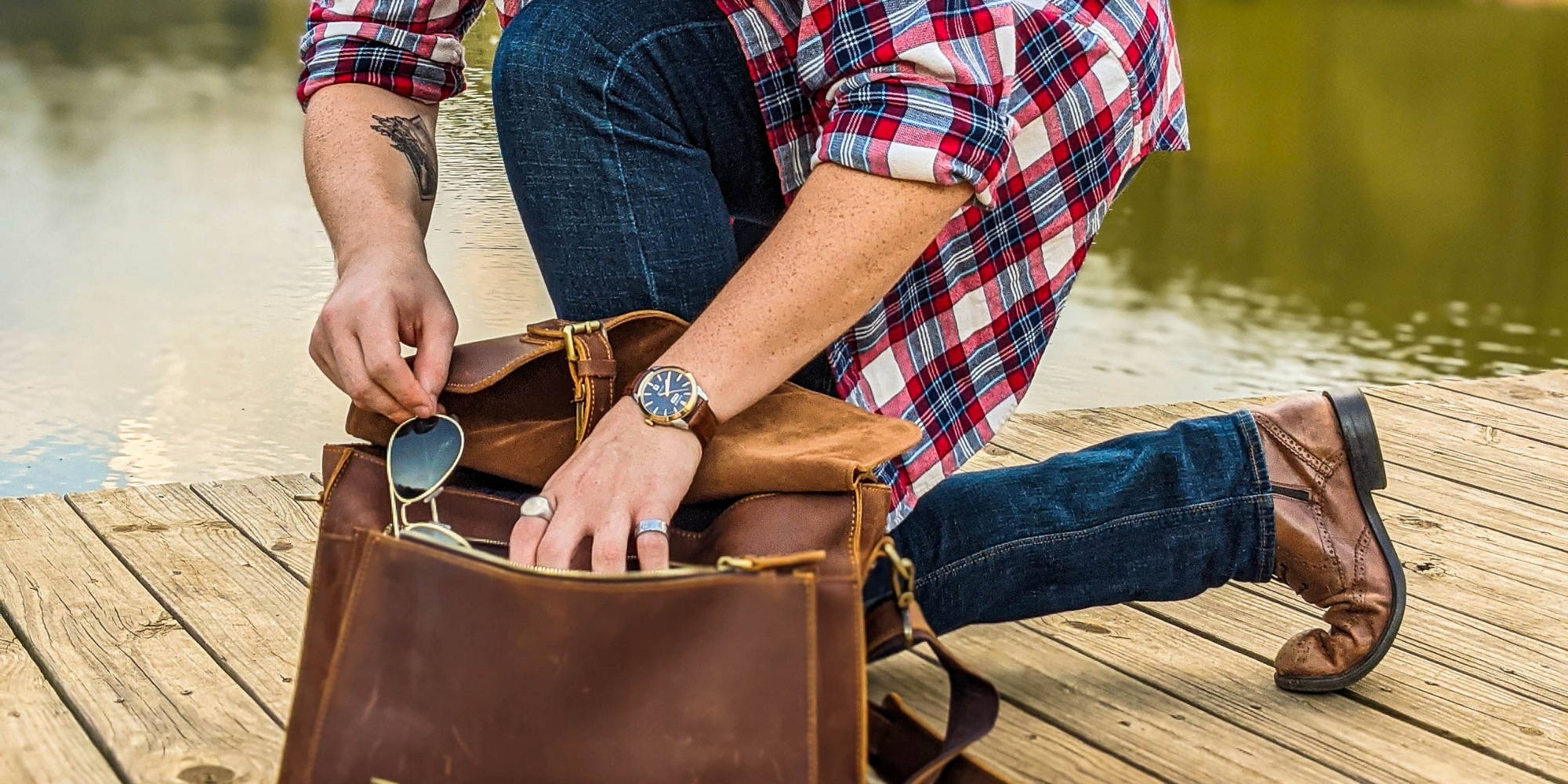 Buying a man's shoulder bag is an arduous undertaking. It is no secret that leather bags run onto the costly side, so deciding where to spend your hard-earned cash is a choice that should take a good, hard think. We want to help you make that choice by showing you precisely what you should keep your eyes peeled for.
We believe your hard-earned cash should be spent on a bag that won't weather at the hands of time. Something that can last decades without losing its quality. Think of your soon-to-be bag as your most loyal lifestyle companion. You need a bag that not only looks expensive, but is also practical and strong – just like you – whether you're working or out in the field or sitting in an office.
To make your guide to buying a premium quality leather shoulder bag easy, we've laid out the main components to consider. By studying this guide and the products available on The Real Leather Company's digital storefront, you will be a simple click away from making the choice best suited to your needs!
Without further ado, here's what you need to look out for when making your investment.
1. STYLE IS ALWAYS KING
So, what look is it that you're going for? Are you a Jim Halpert, working in an office with the need for a bag that's practical in an interior environment? Are you a whip-cracking archeologist with an insatiable appetite for adventure? If so, you likely need something more rugged that can withstand the natural environment.
Making a call over your style is integral to defining who you are to those around you. The saying often goes that the shoes make the man. What you wear says absolutely everything about you. In our mind, the bag makes the man. Tell the people precisely who you are through what's on your shoulder.
At The Real Leather Company, we try to accommodate as many customers as we can. If you're an office whizz with a pocket protector or an adventurer with a grizzly beard, we will have your needs sorted. Let's make you the type of man you've always wanted to be – regardless of what the world thinks.
2. STURDY MATERIAL MATTERS EVERY TIME
Have you ever bought a bag or piece of clothing with a promise of quality – only to be sorely disappointed when tears, holes, and poor stitching rear their heads? Regrettably, many men have had that experience. Don't ever settle for poor quality. Always aim high.
Your leather bag needs to be constructed using the finest materials money can buy. Whether you're sitting behind a desk or cutting through jungle vines with a machete, your bag must be protected from mother nature for decades to come. Make the right choice today and invest in the materials you know you need.
The Real Leather Company's bags are made from premium, high-end leather. Luckily, you don't have to pull your hair out it when it comes to potential wear and tear. By simply following a rigorous leather care routine, your bag will remain in top shape for an eternity. That is our quality guarantee!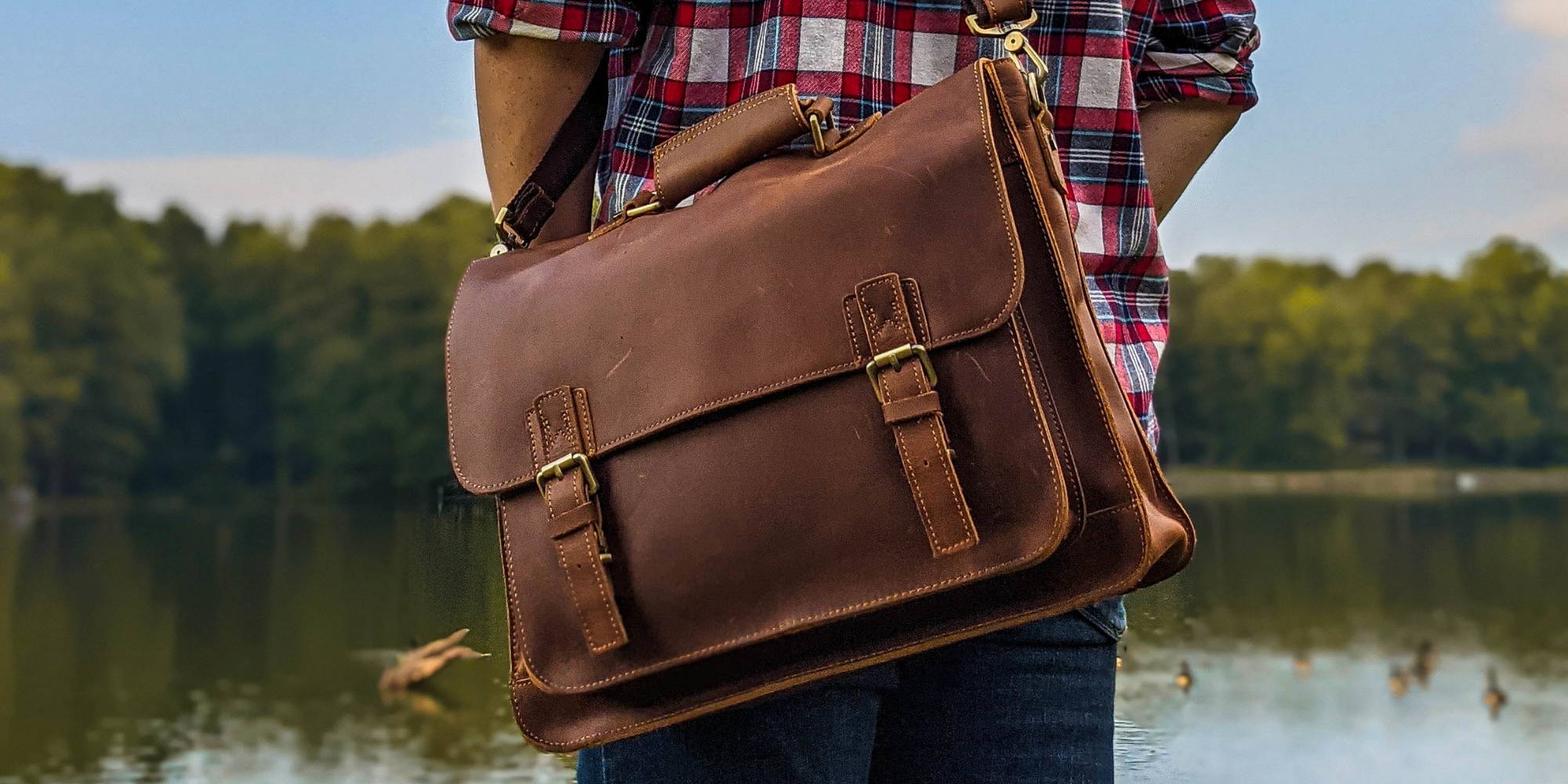 3. IS YOUR METAL HARDWARE ON POINT?
One piece of the men's shoulder bag puzzle that is often overlooked are the zippers. Ensuring that the metal sections on your bag are designed with artisan care is crucial. Zippers are the piece of your bag that you will likely touch the most, so they must be crafted with care and consideration.
People who often buy cheap bags from untrustworthy wholesalers are left with cheap metal components (unsurprising). Metal zippers snap off, get smudged with fingerprints, or are derailed from zipper teeth. Several hundred dollars and a broken bag later, the regret starts to sink in like venom. These customers should have invested in quality.
Our bags are made in collaboration with manufacturers who know their stuff. If you've purchased or are planning on purchasing a bag of ours, you won't ever have to worry about factory manufactured cheap metals. We put time and effort into ensuring you get the top-line product you deserve.
4. WHAT WILL YOUR COMPANION HOLD?
Use is key. Like we've said before, deciding how you intend to use your bag is essential when it comes to making your purchasing decision. You need to think carefully about all the contents you plan on carrying in your bag. What size should you go for? What do I carry with me on a day-to-day basis?
The bags we offer come with a variety of compartments, so you can pack everything you need for a day or night out on the town, at the office, or through the Amazon. We take special care in making sure you purchase the right bag every time. And when one of our bags arrives at your doorstep, you can bet you'll be overjoyed to see that it's the perfect size for your requirements!
Before you even consider buying a bag, consider what it needs to carry. If you plan on packing your laptop, measure your device so that it fits. Have books and notepads you need to always carry on you? Consider measuring those too so you harness optimal storage space.
5. THE QUESTION OF CASH
It is the unfortunate reality that to get anything of high quality, you need to fork over a healthy stack of the green. Buying a gorgeous, artisan designed leather shoulder bag isn't any different. If you want to make an investment for years into the future, you need to spend a little. Let us help you make that choice – responsibly.
The bags on offer at The Real Leather Company vary in price. We want our products to suit everyone, regardless of the size of their wallet. If you're looking to spend a lot on a long-term inventory item, then we've got you covered. Need to spend a little bit less? Don't worry, you can find cheaper – yet still high-end – products on our digital storefront.
Draft a budget to figure out how much you want to invest in one of our bags. Regardless of the final amount, we can guarantee that the product you receive will be crafted and delivered with the utmost care we can possibly provide.
We also offer a free, 30-day trial period for purchases. If you're not happy with what you have, simply send it back (although we're confident this won't be the case)!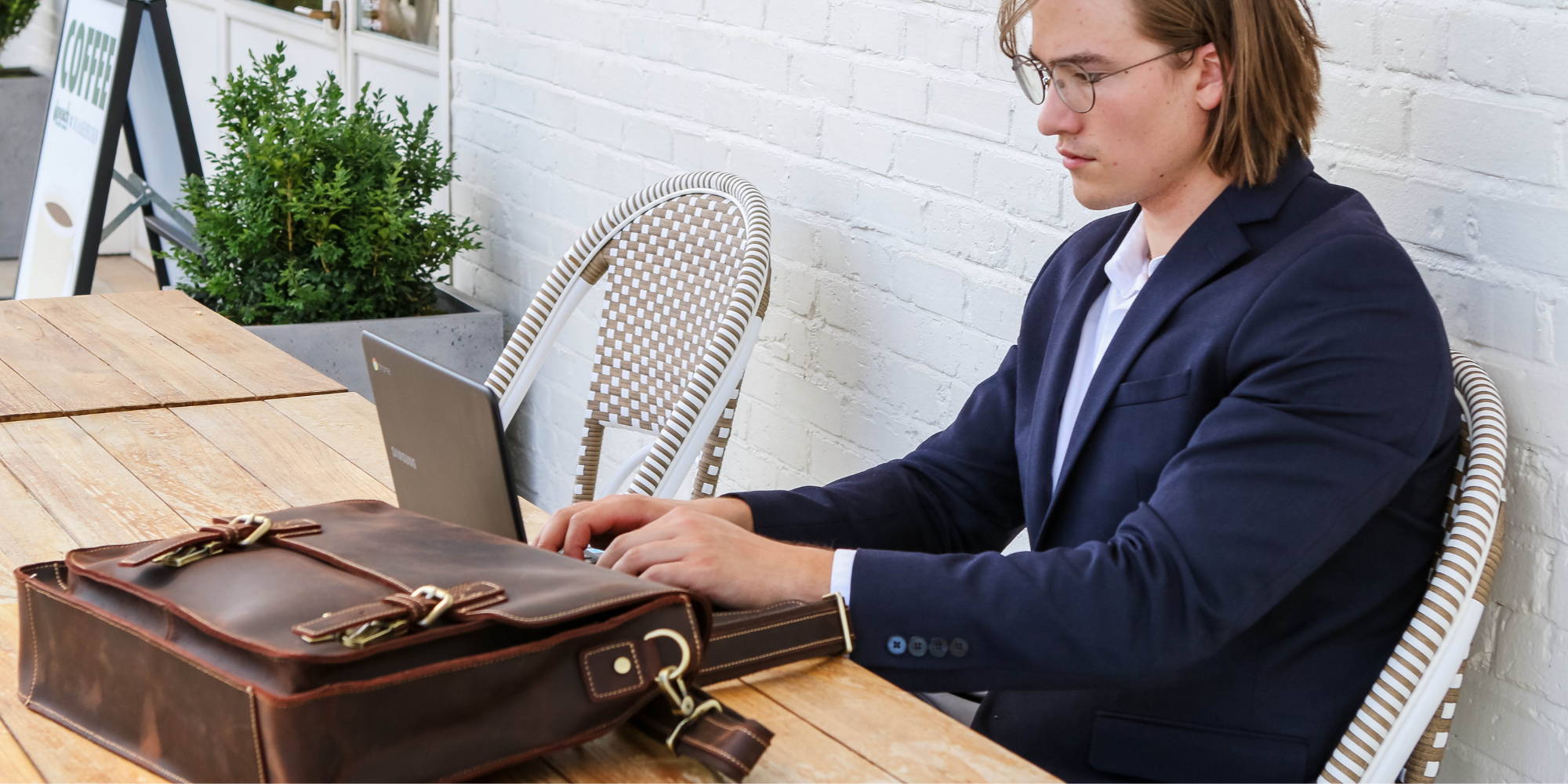 3 Best Leather Shoulder Bags for Men
As we've mentioned before, we believe you should put careful consideration into the bag you choose to purchase. When making a hefty investment, you need a bag that is going to suit your daily needs. Simply head to our digital store to see which bags we currently have in stock!
Our team at The Real Leather Company has compiled a list of three classic bags we think you should give a peek. Consider these as you starting point as you dive into the world of leather men's shoulder bags.
"I bought this for my husband. He loves it! He transferred all his stuff from his old bag and used it right away. The size is perfect - 5 pockets is a plus as you can organize your stuff really well." - Anonymous, The Man Bag customer
Equipped with 5 pockets and an easy-to-carry build, the Man Bag is the best option for those who need a sleek, convenient leather shoulder bag on the run. Designed specifically for everyday use, this bag is perfect for storing your phone, tablet, books, journals, and wallet. It's time take a step out in supreme style in one of our manly men's computer bags.
This bag is made from top-grain cowhide leather. Tough as nails, it will last a lifetime as you run across town with it. The zippers are constructed with premium brass, ensuring that smudge and rust are things of the past. Throw in a fully adjustable shoulder strap, and you're sorted for life!
The Man Bag comes with the following features:
Main sleeve with 10 inches of space

First compartment to contain a tablet or book

Second compartment to house your journal or wallet

A rear pocket to easily access other everyday items

A 1.75 lbs. weight

25" H x 9" W x 4" L
"This is exactly what I wanted. Gorgeous, rugged and well built. Classic and sophisticated at the same time." - Jonathan D., The Daily customer
A classic, sophisticated choice, The Daily is a well-built alternative for those who need a bit more space. With plenty of storage, you can pack your laptop, journals, tablet, and spare clothes in this bag – no exaggeration! A set of organized compartments also cuts down on clutter, ensuring you won't have to dig around endlessly ever again.
Constructed using cowhide leather and premium brass, this bag is as durable as it gets. Our artisan craftsmen and women from all around the world have poured their all into putting together a statement piece which will last a few lifetimes. Rugged and tough, this is one of the men's computer bags you want in your daily arsenal.
Each 'The Daily' bag comes with the following features:
Top-quality buck latch closers

A zipper pocket in the rear of the bag

Front zipper pocket to store tablets

Main interior pocket with compartments and a secure zipper

Laptop sleeve that fits 15.6 inch or 17.2 display laptops

Fully adjustable shoulder strap
 "This top quality briefcase is handsome in a subtle, elegant way. It's perfect in its design, with compartments for every need from cell phone to laptop." - C. Anderson, The Jones customer
Wow, are you feeling this adventurous? It makes sense since you want to buy a bag named after a whip-cracking archeologist! The Jones is made from full-grain premium leather, ensuring a classic weathered aesthetic that makes you look like a seasoned veteran at work. From laptops to files, this very latest in our line of men's messenger bags keeps it all neatly and safely tucked away in style.
We've mentioned the leather, right? Due to the natural leather that we use, this bag can vary slightly in color and texture (don't worry, it won't suddenly transform into a prickly orange). This means that each bag we send out ages perfectly to match its owner. No one bag is precisely the same!
Each 'The Jones' leather bag comes with the following features:
Availability in 16" and 18" widths

Concealed locks to guarantee content safety

Adjustable leather strap that can be detached

Front zippers for easy contents access

Two durable side pockets and a rear zipper pocket

Three colossal inner pockets for maximum storage

Laptop sleeve that fits 15.6" or 17.2" laptops
…Got FOMO Yet?
GET CRACKING AND PURCHASE A BAG OF YOUR OWN TODAY!
It is our hope that we've provided you with a thorough guide to choosing your very first (or simply your latest) bag from our extensive list of premium leather men's shoulder bags. Check the other bags available on our online store and make the best choice for your daily life as a manly man on the professional prowl.
Happy adventuring!